---

---
---
---
News From May 1998:
More Dreamcast Images & VM Card Specs
Top
Doh..in moving this page to the news archive, I managed to delete the original article :(. Of course, not noticing I did so until after I uploaded the archive and had no more backups (must be the jet-lag.) Anyway, my best attempt of a quick re-write...Ok, the VMS Card specs are as follows:
CPU - 8bit
Memory - 128Kbyte
Screen - 48dot (W) x 32dot (H)
Screen Dimensions - 37mm (W) x 26mm (H)
Card Dimensions - 47mm (W) x 80mm (H) x 16mm (D)
Power - 2 Button Batteries with auto off
Sound - 1 Channel PWM
Weight - 45g
Images...these pictures are links to high resolution versions of the images. You will also find lines giving approximate dimensions of the objects. No official dimensions of the DC controller have been given however. It's size is somewhere in between the Saturn's analog controller, and the N64 controller.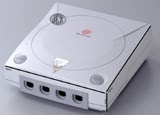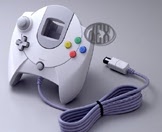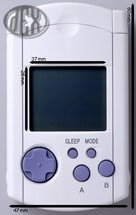 The News You've Been Waiting For
Top
Ok, here it is! The official name is Dreamcast. The console will launch on November 20th 1998 in Japan, and Fall 1999 in the US and Europe. They plan to have five titles available at launch. No price has been set, but its expected to be in the range of previous reports near ¥29,000 or $220US. One can read the US and European PR as well.
Opening the conference in Japan, SoJ CEO Shoichiro Irimajiri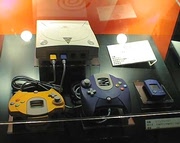 announced "the new milestone for Sega's business - to create an evolutionary game world for the 21st Century - we have named it Dreamcast". Mirroring the Japanese conference, the US and European arms of Sega released their own announcements. Bernie Stolar, CEO of SoA said: "Dreamcast is Sega's bridge to worldwide market leadership for the 21st century...The Sega you see today is driven by two important goals: delivering the best new gaming experiences this industry has ever seen, and winning back the No. 1 position in the console category. We'll do whatever it takes to get there." Quoting CEO of Sega Europe, Kazutoshi Miyake: "Our goal is to deliver unprecedented gaming experiences to European consumers. Dreamcast will achieve this goal. All prominent publishers developers are already supporting Dreamcast, guaranteeing from day one the strongest software line-up ever available for a new videogame console."

Here are some of the highlights of the press release:
Polygon counts topping three million per second leave players staring at the whites of their opponent's blood-shot eyes.
Dreamcast can display revolutionary new types of realistic and engrossing 3D graphics. Human movements, fog, water effects, light and shading appear ultra-realistic.
...revolutionary feature of Dreamcast is the Visual Memory System (VMS), which is a memory card and the world's smallest portable game card with built-in LCD screen. Plugged into the Dreamcast controller, the LCD screen lets players set up secret moves against their opponents...Pull out the VMS card and it becomes a portable electronic game card no bigger than a business card. The cards will hold up to 4MB of memory.
The Specs
CPU: Hitachi SH4 RISC CPU with 128-bit graphics engine (200MHz, 360 MIPS, 1.4GFLOPS)
Graphics: Power VR Second Generation (rated at 3 million polygons per second). Features: Bump mapping, fog, alpha-blending, mip-mapping, tri-linear filtering, anti-aliasing, environment mapping, and specular effects.
Sound: Yamaha Sound Processor with 32-bit RISC CPU (64 channel ADPCM)
Main Memory: 16 megabytes (SDRAM)
Modem: V34 (33.6Kbps) - Standard.
OS: Customized Microsoft Windows CE operating system
Media: 12x CD-ROM (650MB or special 1GB format)
Color: 16.77 million colors
Data Save: VM Datacard system
Misc: 4 Controller ports.
Dimensions: 190x195x78mm (WxHxD), Weight 2.0kg.
Sega announced no titles for the Dreamcast console, however they did show off a few demos. According to Game-Online, the first demo was a 3D rendition of Sega's head, Irimajiri: "it looked like a real face! The animation and expression was absolutely superb and you could discern every wrinkle as the camera zoomed in on his face. Then ball lighting of various colours spun around his head, with lighting cast on his face. Other effects, such as the entire head turning into reflective metal (and then shimmering liquid style) were also on offer. Best of all was when the head descended into a cityscape with twin helicopters arriving to intercept it (replete with searchlights). This is followed up with the head of Mr Irimajiri breathing spectacular fire, spinning around and banishing the city completely. Awesome stuff....HOWEVER... this is as nothing compared to the majesty of the "Tower of Babel" demo which followed soon afterwards. This demonstration sees an entire town built up in a desert around the eponymous tower, in sunset. The camera goes everywhere - it literally swoops in between buildings before flying out, allowing you to witness the entire town in all its glory. This truly was one of the most incredible pieces of 3D rendering yet seen... and Dreamcast was performing it in real-time. Although the flight course was pre-determined, Mr Irimajiri had full control of the camera angles, thus proving its on-the-fly 3D rendering credentials."

All I can say is WOW! The system sounds absolutely incredible. However some questions remain. First off, what games are we going to see? Second, looking at the controllers, I wonder how they feel as far as comfort etc, or if the design is still changing. ALso, what will tide non Japanese Saturn owners over until Fall 1999? Hopefully some images and other information will filter out later.

Big Announcement Tomorrow
Top

Tomorrow, May 21st, Sega of Japan will have a big announcement revealing the details on the next Sega console slated for a November '98 release in Japan. Hours after the conference, Sega of America will at 9:30AM PST (-0800 GMT) hold its own brief (half hour or so) press conference to clarify any questions from the Japan conference and the US strategy. Current rumors give the system a name of 'Dream Cast.' As reported in the last dEX newsletter, system prices will be about ¥30,000 or $220US. However, other sources say the system is actually costing Sega nearly ¥40,000 or $295US, that is Sega is taking a $75 loss on the console. After the Saturn's overpriced release way back when, one can see that Sega has learned its lesson. The only question remaining are those relating to the exact tech specs, which shall be known tomorrow. I'll get the story up ASAP but most likely not until 3:00PM PST as by then I'll be home and have the story written.
---
---
Sega of America is the arm of Tokyo, Japan-based Sega Enterprises Ltd. responsible for the development, marketing and distribution of Sega videogame systems and videogames in the Americas. Sega Enterprises Ltd. is a $3.6 billion company recognized as the industry leader in interactive digital entertainment media, and is the only company that offers interactive entertainment experiences both inside and outside the home. Sega of America's World Wide Web site is located at (http://www.sega.com).
---
---
All Names and logos are trademarks of their respective companies.
See individual games boxes for specific information.
---
Questions or comments? Contact dEX.