---
---
---
This page is designed to act as a guide for readers and writers of reviews. I have written this document to help review writers include the information I want to be included in Dreamcast reviews. They apply for software or hardware articles. For readers I hope this page will help show you what I try to have included in the reviews, and perhaps encourage you to write your own review. Submissions are most welcome and encouraged. If you've any questions, feel free to ask me.
---

The general format of a review begins with a short introduction paragraph. It is meant to sum up what the review is about, and also include a little background information on the game and the writer's experience. With the body of the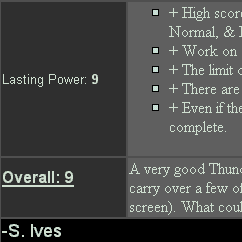 review, I'm pretty open. Include whatever you feel is pertinent as well as going into depth regarding each of the major criteria: Gameplay, graphics, sound, lasting power, peripheral support, and overall. The criteria is pretty much self explanatory, however, the 'Peripheral Support' catetory needs a little explaining. This category is in regards to how well the software interfaces with the VMS system and any amenities such as network play, or hardware peripherals such as the Steering Wheel and VGA Box. Also include any little extras that may enhance or detract from the gamer's experience. These might include multiplayer support (both online and off), play mode options, hidden features, VMS support, etc.

Reviews will end with some ratings on a scale of 1 to 10 (in increments of 0.25) in these areas: Graphics, Sound/Music, Gameplay, Lasting Power, Peripheral Support, and Overall. If you desire, also include good and bad things about these areas (ala +'s and -'s).
---
Back to the Review Page
---
---
All products are trademarks of their respective companies.
---

Questions or comments? Contact dEX.